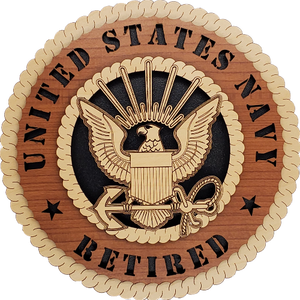 3D Military Wood Plaques for Desktop or Wall Decoration.
Our decorative 3D Military Plaques comes in two sizes and styles:
Desktop Decoration
6-inch Desktop Plaque (plate stand included)
Wall Decoration:
12-inch Wall Plaque (hardware to hang it on the wall already installed).
Our 3D Military Plaques are ready to be display as soon as they arrive (no assembly required); each plaque is laser cut, assembled, handcrafted individually and finished with a maple and walnut natural color with a black background.
  MADE IN THE USA BY VETERANS FOR VETERANS !